Hull City officially report Fabregas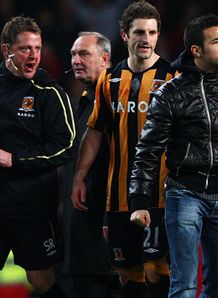 Hull City have handed over the full details of events that took place at the Emirates Stadium in Arsenal's 2-1 win.
It has been alleged that Arsenal captain Cesc Fabregas spat at Brian Horton,assistant manager of the Tigers.
Cesc Fabregas has been sidelined due to an injury came on to the pitch to celebrate with his team mates over their quarter final victory.
Hull boss,Phil Brown maintains the Spaniard spat at Horton in the tunnel as the Hull players left the field.
"My evidence has gone in, Brian Horton's evidence has gone in and Sean Rush's(fitness conditioner) evidence has as well. That is all that has been necessary as regards to us up to now,"
Brown told the Hull Daily Mail.
While Fabregas has maintained his innocence, not much has come out of the Arsenal camp.
Will this be a turn of events if he indeed is found guilty?Fabregas has been sidelined for a long time now and is expected to make a return on the weekend against Manchester City.Also with Champions League tie with Villareal,they don't want him to be without match practice!