Alonso joins Madrid..finally!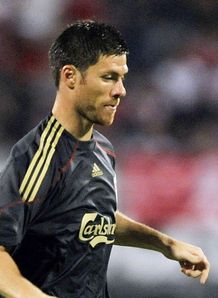 Liverpool have finally sold Xabi Alonso to Real Madrid for a fee of nearly £30million. Real Madrid had earlier claimed they would pull out of the deal if Liverpool asked for more than £25million, however that seems to have not been the case in the end.
Real get their long term target and second Liverpool player after Arbeloa joined Los Blancos a few days ago. This also continues the revolution to setup a formidable attacking lineup with world record deals of Cristiano Ronaldo and Kaka from Manchester United and AC Milan respectively.
This concludes Alonso's Liverpool tenure which started in 2004 when he moved from Real Sociedad which saw him make 143 Premier league appearances for the Merseysiders.
From a formation point of view, it would be very difficult for Madrid manager, Pellegerini to pick his side now and then to choose the formation to play.
Richard Farley
, a fellow football blogger, suggests many options which Madrid could opt for. One of them being following the same approach as Liverpool does with two deep midfielders, 1 attacking midfielder who can play as an additional striker in some situations, an out and out striker and then eventually two wingers. Or Higuain could partner Benzema upfront with Kaka and Ronaldo playing behind them and Marcelo,Robben,Sergio Ramos providing the width. Alonso and Lass to be the defensive midfielders or the holding midfielders.
As for Liverpool, they would be pretty happy with the money they've received and if the reports are to be believed then they've found a replacement already in the form of Roma's Alberto Aquilani in a £20million move. Another player who is linked with a move to Spain is Mascherano, who is wanted by champions Barcelona. Although Barcelona haven't made any public comments in their approach for the Argentine but it could all change in a few days. Liverpool are also linked with Standard Liege's Steven Defour but that seems to be a false rumour.
Leave comments if you have any idea for Real's formation or how Liverpool should approach this major change with only days to go for the season to start.
Labels: Liverpool, Real Madrid, Transfers