Tevez staying? Not staying?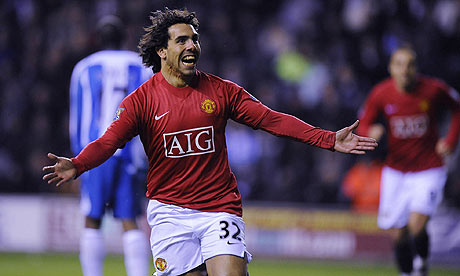 After steering
Manchester United to a 2-1 victory over Wigan
with a cheeky first goal,Carlos Tevez's future is still uncertain at the club.
Tevez had come on in the second half for Anderson and brought the scores to a level as Manchester United then went on to score another through a Fletcher strike and be within touching distance of a third consecutive premiership crown.
Tevez had been quoted in the Sunday's papers about his unsure future at Old Trafford and had been linked to various clubs from the likes of Liverpool,Manchester City,Real Madrid,Barcelona,Spurs etc.
Sir Alex Ferguson had this to say after the game against Wigan at the JJB :
He is a fantastic player.

He knows I want him to stay. I had a chat with him today and (chief executive) David Gill has had meetings with him.

I'm sorry I have to keep on going on about this, it has never changed.

(The fact) we're not negotiating with a football club is the problem - we'll see.

The news report of David Gill meeting Tevez's agent,Kia Joorabchian has been confirmed by his agent. However,they have stated that Manchester United haven't categorically made any offer to make Tevez's stay permanent.
Tevez had arrived on a two year loan deal which could have then be made permanent but the transfer saga has been more of a puzzle to decipher.
If Tevez does leave it would be a blow to Manchester United who would lose a very hard working player and someone who in my personal view is much better than Dimitar Berbatov.On the other hand,if Tevez does move out then it would be hard for him too as he would have to adapt to a different kind of work culture especially if he moves out of England.Also,the idea to move out of European and World Champions would surely bother anyone.
Is Tevez right to consider moving out? What do you feel?
Labels: blog, Manchester United