Evra handed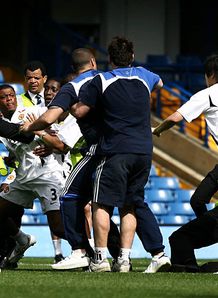 Patrice Evra has been found guilty of misconduct and Rio Ferdinand is let off with a warning.
Patrice Evra has been found guilty of misconduct by the FA after the Chelsea-Manchester United game at Stamford Bridge.
Allegedly Evra who was pacing up and down, after the game which United had lost 2-1 the Frenchman lost his cool and has been charged with misconduct with the ground staff.The ground staff has also been charged after been found of abusing and passing racial slurs towards the player.
Ferdinand on the other hand has just been 'reminded of his responsibilities' after he was also reported to have kicked a female steward after the final whistle.He was expected to be banned and maybe overlooked for the England national side's captaincy.But he has been spared after the steward didn't report the matter and has apologised as well.
Is it justified to let off a player after he apologises??
Labels: Manchester United